Newhampton Arts Centre and Jazz at Wolverhampton presented a special music festival in Wolverhampton this summer. Jazz at New Horizons was the first–ever jazz music festival held at the centre.
The festival took place on Saturday 31st July 2021. This one day event was filled with live music from some of the most renowned jazz acts of today – all in NAC's brand new outdoor performance area.  Attendees enjoyed party atmosphere, real ale and festival food as NAC teamed up with Wolverhampton-based No. 5 Event Catering to provide a tasty food offer at NAC's  Arts cafe.
The New Horizons Stage is the arts centre's response to COVID, allowing live music to resume once again in the city. The big-top style tent stage is situated in NAC's central courtyard during the summer months, which during COVID restrictions will be operated without side walls – allowing for 100% external ventilation and events to be presented safely 'as outside' but under canvas.
The festival line-up included BBC Jazz Award winning saxophonist & composer Julian Siegel with his Quartet and featured some of this generation's most distinctive voices, coming together to create one of the most in-demand Quartets on the UK and European Jazz scene. English jazz vocalist Tina May is one of the most expressive and technically gifted jazz singers working today. She also appeared on the bill and was accompanied by pianist Nikki Iles.
Critically acclaimed MOBO nominated saxophonist Camillia George, recently dubbed as "The Golden Girl of Jazz" by The Evening Standard,  lead an all-star band in a set of originals inspired by her African heritage. And last but not least British guitarist Ant Law "a game changer" – The Guardian. Ant joined forces with Michael Chillingworth (alto sax), Ivo Neame (piano), Ferg Ireland (bass) & James Maddren (drums).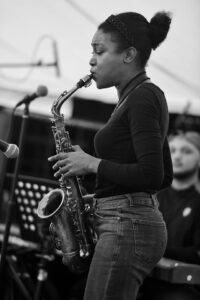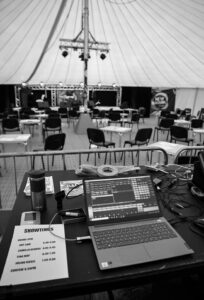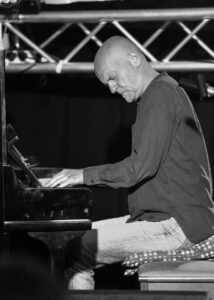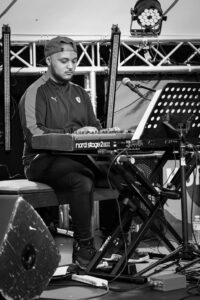 https://www.flickr.com/photos/bluejazzbuddha/
Related event
22 April 2022, from £13.50
Dave O'Higgins & Rob Luft Quartet join us promoting their new CD, 'O'Higgins and Luft play Monk and...
You may also be interested in
News
Posted
Live jazz scene heats up for spring in Wolverhampton Newhampton Arts Centre and Jazz at Wolverhampton are very…
Jazz at NAC, Live music
Jazz at NAC, Live music
, from £13.50
Dave O'Higgins & Rob Luft Quartet join us promoting their new CD, 'O'Higgins and Luft play Monk and…