Attending a spoken word and poetry event is a great way to experience the power of the written and spoken word. You can learn from the best poets and artists, explore different topics and themes, and be inspired by their creativity. Additionally, these events often provide an opportunity to create a strong sense of community and solidarity amongst poets, writers, and listeners. You will also have the chance to make meaningful connections with people who share the love of spoken word and poetry. Lastly, spoken word and poetry events are a great way to support the local arts and culture scene in Wolverhampton.
Spoken Lyrik will be bringing Love Lyriks to NAC's Arts café in February, a poetry show bringing the lyriks that you love to the stage. This will be Spoken Lyriks 3rd poetry show at the Newhampton Arts Centre, featuring poets from across the UK.
This week we caught up with Shak to tell us all about the event and how you can get involved or simply pop along and experience and appreciate the power of writing and speaking.
Firstly tell us a little bit about yourself
My name is Shak and I'm from Wolverhampton and I've been performing spoken word for 2 years now. Apart from this I currently work form a charity designed to help the homeless under 25.
How did you come up with idea to run this spoken word event?
I have a theatre background which always stimulated my creative side and during the lockdowns I took to writing poetry. This led me to performing at different open mics which inspired me to run a similar event.
Why did you choose Newhampton Arts Centre?
NAC are responsive, very accessible and easy to talk to and liaise with. Additionally when actually running the show I cannot express enough how helpful everyone is and how the actual aesthetics of the room make the show look so vibrant. I really love the venue and the staff, they complete the show.
How many spoken word artists perform? And what sort of thing do they do?
Roughly 14 people perform their spoken word art. This covers an array of topics but to summarise, usually people tend to write and talk about their own experiences and reflections in a poetic manner which is often relatable and memorable because of the structured delivery. It's truly surprising how touching this kind of art form is.
How can I find out more?
Usually we communicate through Instagram on spoken.lyrik because it's an easy way to connect with people, keep track of poetry scene and individuals work.
What advice would you give to someone who is interested in performing their work or poetry?
Google is a good place to find events as well as Instagram. Once you attend one open mic or a poetry event you will be connected to all sorts of people, because everyone knows someone. There is definitely an event out there tailored to everyone.
Do you have a favourite spoken word artist or poet?
Personally no, it's all subjective and I can relate to so many voices.
And finally, tell us why the Wolverhampton community should come to Love Lyriks in February?
The community in Wolverhampton is also my community because I'm from here but that's not the only reason the should come. Genuinely, you will be attending a very moving event, essentially it's real people performing true stories and real people connecting in person. It's underestimated how touching and relatable the work performed is as this is not high school poetry, this is the front line stuff.
Find out more about the event below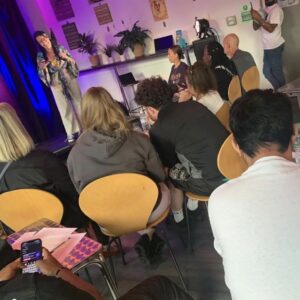 Related event
23 February 2023, from £5
Spoken lyrik presents, Love Lyriks, a poetry show bringing the lyriks that you love to the stage. This will be Spoken lyriks 3rd poetry show at the Newhampton arts centre in Wolverhampton featuring poets from across the UK.
You may also be interested in