Prices:
Early Bird (First 90 tickets): £29.50
Standard Admission: £35.50
Additional details:
Eddie Reader, Midnight Skyracer, Tom McConville, David Newey
Back for 2022, The Folk at New Horizons Festival in Wolverhampton is even bigger and better. Featuring:
Eddi Reader
Eddi Reader is perhaps Scotland's greatest living female voice, brought into the limelight with Fairground Attraction and their single 'Perfect' which topped the British charts. Throughout her successful solo career, Eddi has released consistently great works, including highly acclaimed albums such as The Songs of Robert Burns and 2018's Cavalier.
Midnight Skyracer
Midnight Skyracer are an all-female 5 piece bluegrass band playing hard driving traditional and modern classics. The Anglo-Irish all female quintet have become festival sensations across the UK & Europe They also carry the distinction of being the first British act nominated for an award by the International Bluegrass Music Association.
Tom McConville & David Newey
Tom is one of the leading fiddle players in the British Isles, performing at many festivals. His live performance combines a roller-coaster of musical delights, great singing and dry Geordie wit. Tom will be joined on stage by guitarist, singer and songwriter, David Newey and one of the most sought after accompanists in the business.
Sunjay
Having gigged prolifically for the last decade, opening stages for esteemed artists such as Steeleye Span, Martin Simpson and Show of Hands, as well as being nominated for the BBC Radio 2 Young Folk Award, it no longer feels appropriate to call Sunjay a rising star on the scene. Indeed, he has well and truly risen and earned his place as an established and widely admired artist in his own right. Renowned for his astonishing guitar playing, mature vocals and trademark wit, Sunjay has been turning all the right heads and captivating audiences up and down the UK
There will be Real Ale, Hot Food and a party atmosphere.
The new horizons stage tent is based at Newhampton Arts Centre in our outdoor, covered stage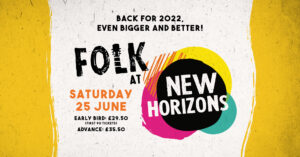 Watch highlights from the 2021 festival
You may also be interested in
Folk at the NAC, Live music, Summer at NAC
Folk at the NAC, Live music, Summer at NAC
, from £16.50
A rare opportunity to see two of Britain's foremost folk performers playing together. One of the finest guitarists…
Folk at the NAC, Live music
Folk at the NAC, Live music
, from £14.00
THIS EVENT HAS BEEN POSTPONED. ALL TICKETS WILL BE VALID FOR THE NEW DATE WHEN ANNOUNCED OR PLEASE…