Folk Festival marks return to Live Music in Wolverhampton
Saturday 3rd July saw the first ever outdoor Folk Festival take place in the brand new outdoor covered New Horizons space, situated in the coutyard of the centre. Its a versatile big-top style performance space allowing flexible seating arragements and artists to perform safely in front of a live audience. It was a busy weekend for Newhampton Arts Centre, as staff prepared for the return of audiences, with real ale and hot food provided by No. 5 Catering. Several well-known folk acts took part in the festival, in front of a full complement of folk music lovers, making the event a huge success.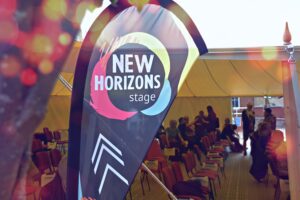 The festival opened with Matt Sayers who was orginally from Wolverhampton and is an Indie folk singer songwriter. His lyrically driven songs accompanied by his acoustic guitar captivated the audience and was a perfect opening for the afternoon's summer weather.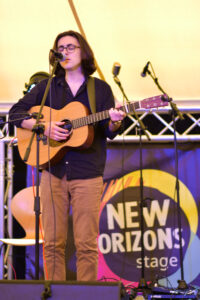 Next on the programme was the Vera Van Heeringen Trio. Vera was joined on stage by Dave Luke and Andy Seward to produce their very own special brand of Folk/Americana. The audience showed their appreciation of Vera's faultless skill on the Guitar and Mandolin and they particularly loved the traditional Appalachian classics she played on the violin. It was a wonderful showcase of skill and songwriting.
The trio were followed by Pete Morton. From Leicester, Pete is one of England's finest singer songwriters. Pete filled the courtyard with his powerful singing voice and fully entertained the crowd with many of his own fiercely creative and entertaining songs.
Headlining the event were Calan who presented their own form of Welsh traditional music with an array of instruments. With Calan's stunning use of the fiddle, accordion and harp, they wowed the folk fans with energy and beautiful sounds. There was plenty of enthusiastic foot-tapping and they even got everyone to their feet in their final numbers. It was a stunning conclusion to a wonderful day in the setting sun.
The Wolverhampton arts centre was delighted by the response from the audience members.  See more of the centre's folk events here
We were thrilled to be able to produce this event with first-class folk artists. The assortment and quality of the music was incredible and it was wonderful to welcome back our folk audience to what was considered to be a really successful day for the centre and live music in the city. Trevelyan Wright - CEO
Related event
25 June 2022, from £29.50
Back for 2022, The Folk at New Horizons Festival in Wolverhampton is even bigger and better. Featuring: Eddi...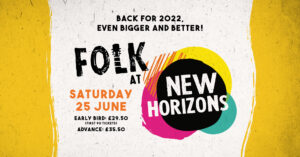 Watch highlights from the 2021 festival
You may also be interested in
Folk at the NAC, Live music, Summer at NAC
Folk at the NAC, Live music, Summer at NAC
, from £16.50
A rare opportunity to see two of Britain's foremost folk performers playing together. One of the finest guitarists…
Folk at the NAC, Live music
Folk at the NAC, Live music
, from £14.00
THIS EVENT HAS BEEN POSTPONED. ALL TICKETS WILL BE VALID FOR THE NEW DATE WHEN ANNOUNCED OR PLEASE…