Headline Act at Wolverhampton Jazz Festival – Dennis Rollins
One of the joys of jazz is seeing how virtually any instrument can lead a band in the hands of a skilled player. And so it is with the trombone and Dennis Rollins.
For the past twenty years he has led a variety of ensembles exploring composing for the 'bone . These vary in size from the self-explanatory Velocity Trio to the ten-trombone powered big band Boneyard.
A commitment to groove and funk has always been central to his work and so we're delighted he is bringing to the Jazz Festival his Funky Funk six-piece band. His session and live work includes Jamiroquai and Brand New Heavies, as well as jazz luminaries such as Courtney Pine.
Don't miss the video below and do check him out on Spotify, where he inevitably features on playlists such as Funky Trombone and Ultimate Trombone – and don't miss him here at NAC.
Also on the bill are Dinosaur, Laura Jurd's long running jazz quartet. They have earned a reputation as some of the most remarkable UK jazz musicians of their generation. Having played at some of the world's most iconic jazz festivals, the band goes from strength to strength as they enter their 11th year of trumpet-led, improvisatory magic.Voted Best Vocalist in the British Jazz Awards 2019, Sara Dowling will also make an appearance. The fabulous fearlessness with which she approaches the act of singing, and jaw-dropping musicality she brings, makes Sara one of the UK's leading Jazz vocalists.
The Howl Quartet brings together four of the finest young improvisers from London's vibrant jazz scene. The group tie their passion for jazz with folk music, contemporary grooves and free improvisation.
Related event
23 July 2022, from £29.50
Welcome to the return of our summer Jazz Festival with world renowned jazz musicians. Expect a party atmosphere,...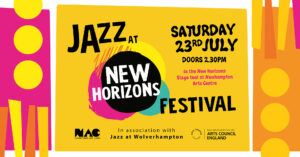 Watch Dennis Rollins
You may also be interested in
News
Posted
The Jazz at New Horizons Festival in Wolverhampton is Newhampton Arts Centre's second festival in the New Horizons…