When we say jazz is a broad church, we often mean which jazz traditions do today's artists work within. Laura Jurd is one of the most innovative composers working in the UK today – most notably by adding synthesizer textures to her compositions. This has certainly helped her get noticed – 2018 album Together, As One, with regular band Dinosaur was nominated for the Mercury
Music Prize.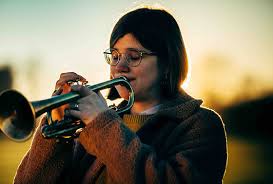 There's more than enough craft in Laura's spacious and tuneful compositions for the most ardent jazz aficionado to get lost in, but also an accessibility, led by her expressive trumpet, for those who are more concerned about where artists are going next than where they've come from.

For the festival we're delighted she's joined by Dinosaur stalwarts Conor Dick on drums and Conor Chaplin on bass. Look out for musical spontaneity and adventure as Laura reworks her own compositions for this intimate group.
Join Dinosaur and other excellent band leaders on trombone, trumpet, vocals and saxophone THIS SATURDAY at Jazz at New Horizons Festival. Featuring Dennis Rollins Funky Funk, jazz singer Sara Dowling and Howl quartet.
" ... beautifully played and effortlessly confident collage of contemporary styles." The Guardian
Related event
23 July 2022, from £29.50
Welcome to the return of our summer Jazz Festival with world renowned jazz musicians. Expect a party atmosphere,...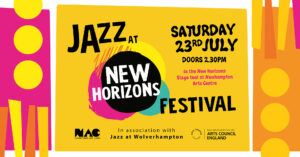 WATCH DINOSAUR
You may also be interested in
News, Stories & Reviews
Posted
Headline Act at Wolverhampton Jazz Festival – Dennis Rollins One of the joys of jazz is seeing how…