The Newhampton Arts Centre's half term activities this week saw Wolverhampton children learn Gelli Plate Printing.
The half term activities which also included pastel drawing, bird box making and scratch art, were led by some of Wolverhampton's leading artists Lindsay Pritchard, Jacky Fellows,  Kathleen Fabre & Ruth Radcliffe. The free YoWolves activities funded by Wolverhampton Council took place in the studio block rooms at the centre during half term which also included a hot nutritious meal from the on site cafe, The Arts Cafe.
Tuesday's activity led by Jacky, saw children making their own concertina book using eucalyptus leaves, ferns and small flowers to print designs on tissue paper. They were then able to  build up colourful prints with acrylic paint layers.

Take a look at some of the beautiful creations below.
The family fun doesn't end there.
The arts centre has recently announced its up coming Christmas production of Snow Play. Taking place on Saturday 10th & Sunday 11th December, this 1 hour performance will be a showdown between Winter and Spring over who gets to stay and who has to go away and promises a snowy spectacular where families are guaranteed a white Christmas, no matter what the weather!
Photo credit: Jacy Felllows
Related event
10-12 December 2022, from £5.50
What would you do if one year Winter decided to stay and moved into your house? Well that's...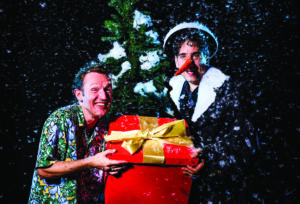 You may also be interested in
BLACK FRIDAY, Christmas, Christmas, Families, Holiday Activities, Theatre
BLACK FRIDAY, Christmas, Christmas, Families, Holiday Activities, Theatre
, from £8.00
What would you do if one year Winter decided to stay and moved into your house? Well that's…
Page
Posted
What's on Are you looking for something exciting to do in the heart of Wolverhampton? Look no further…