Live Folk in Wolverhampton: A stellar line up for autumn has been unveiled at Newhampton Arts Centre.
Kicking off the folk season at the end of this month is "The Big Sky Tour" featuring Kathryn Williams & Polly Paulusma. Both artists, known for their unique contributions to the British independent music scene, met during a songwriting retreat and have since forged a strong bond. Their tour promises a blend of their individual talents, with each playing headline solo sets and also coming together for a few collaborative songs. Williams, a Mercury Music Prize-nominated singer-songwriter, and Paulusma, known for her shed-recorded debut and her recent albums, will offer audiences a unique blend of their musical journeys.
Follwing this, on 14th October, the harmonious trio, Ward, Knutur, Townes, will take the stage. Emerging during a time of global stillness, Lucy Ward, Svavar Knutur, and Adyn Townes joined forces through the innovative Global Music Match. Their debut album, crafted in the serene landscapes of Iceland, promises a journey through Lucy's evocative tales, Svavar's deep Icelandic roots, and Adyn's poignant lyrics, narrating tales of love, folklore, and mystery.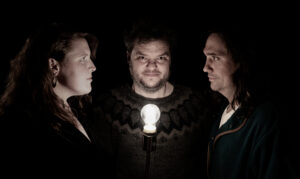 On 18th November, the melodies of James Delarre's fiddle and Saul Rose's melodeon will resonate through the arts centre. Both seasoned artists in the folk scene, their latest record, 'Kith and Kin', stands as a testament to their shared passion for traditional tunes and their enduring camaraderie. Their performance promises a harmonious blend where the old and new coalesce seamlessly. Read more in this interview with Spiral Earth
Rounding off the season with a festive treat on 16th December are Jackie Oates and John Spiers, two pillars of contemporary folk. Their evening, deeply rooted in the rich folklore of Oxfordshire, promises a celebration where traditional carols and tunes come alive. With Jackie's ethereal voice and John's melodeon mastery, audiences are in for a treat that transcends mere performance, becoming a celebration of Oxfordshire's musical legacy.
To experience these mesmerising performances and the very best of live folk in Wolverhampton, secure your tickets here
You may also be interested in