PAINT THE DAY
Paint the Day 2022 took place on Saturday 16th July, with eager artists taking to the streets, parks, canals, busy city centre and hidden beauty spots of the Wolverhampton and Whitmore Reans area to capture the day in their preferred visual style. After eight long creative hours, artists returned to Newhampton Arts Centre to handover and hang their Paint the Day entries.
EXHIBITION 
Sunday 17th July saw the grand opening of the Paint the Day exhibition at NAC's Gallery Hall space. The Victorian hall became full of artwork, artists, art lovers, buyers, voters, young creatives and the all-important Paint the Day judging panel who debated the works before them and make their final choices.
JUDGES PRIZES
Awarding; Charlotte Wiley with first prize, Natasha George with runner up, Jacob Billington as our Under 18 winner, Martin Lawrie our Photography winner with Sue Angus being Photography runner up and Em Billington winning our under 18 prize. Prizes were awarded by the CEO of Newhampton Arts Centre, Trevelyan Wright.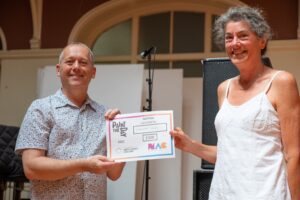 AUCTION
The FREE public Paint the Day exhibition was open daily until Sunday 1st August. The exhibition featured all artwork that was made on that creative-filled day where attendees had the chance to take a masterpiece home by bidding for artwork in an auction format throughout the week. 

PUBLIC VOTE
Exhibition visitors could also vote for their favourite piece of artwork, which will decide the very final awards which will be awarded at the close of the exhibition.can also vote for their favourite piece of artwork, which decided the very final awards at the close of the exhibition.
We are delighted to announce that the Under 18 Public Vote prize went to Ava Godridge for 'Colours of the Cut' and the overall public vote prize was awarded to Nataliya Hodson for 'A Gander at West Park'. Watch them being awarded below.
NAC would like to congratulate all winners and participants for taking part in Wolverhampton's favourite art challenge.
See the public vote winners being announced
You may also be interested in