From Prefab Sprout and Elvis to drama and laughter: Discover What's On This September at Newhampton Arts Centre
The Newhampton Arts Centre is gearing up to present a month filled with vibrant performances, laughter, and unforgettable experiences. September at the NAC promises a diverse array of events that cater to a wide range of artistic tastes. Whether you're a music aficionado, a theatre enthusiast, or someone looking for a hearty laugh, the NAC has got you covered.
Martin McAloon of Prefab Sprout
2 September 2023, from £22.50
Dive into the musical world of Prefab Sprout as Martin McAloon performs a selection of hit songs, celebrating over 40 years of his brother, Paddy McAloon's iconic writing.
CLAVIS 7EVEN: 'KING OF THE WEST' HEADLINE SHOW
8 September 2023, from £10
Experience the musical phenomenon of the West with CLAVIS 7EVEN's headline show.
Folk at the NAC: Granny's Attic –
SPECIAL BOGOF OFFER
9 September 2023, from £16
Revel in the boundless energy and exceptional musicianship of Granny's Attic, a band that's rapidly gaining momentum.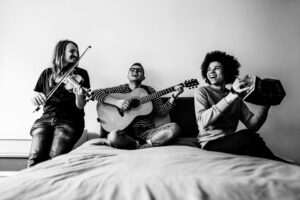 Theatre / Spoken word: The Long Road
14 September 2023, from £10
Dive deep into the emotional journey of a family grappling with a tragic loss in Shelagh Stephenson's "The Long Road.
Comedy Night with Josie Long: Re-Enchantment
15 September 2023, from £16.50
Join Josie Long for a night of laughter, compassion, and some brief political rants in her brand-new show.
Baz Luhrmann's 'Elvis' Film & Food Experience
16 September 2023, from £17
Immerse yourself in "A Night with The King" – a movie and food night featuring Baz Luhrmann's Elvis and a gourmet meal from The Arts Cafe.
Desi Central Comedy Night
17 September 2023, from £18
Prepare for a night of hilarity as Desi Central returns with another rib-tickling lineup.
Live music: Community 'In The Round'
22 September 2023, from £10
Witness a unique performance as Alex Ohm, Jack Fletcher, and Jack Cattell take the stage together for one night only.
Folk at the NAC: THE BIG SKY TOUR
23 September 2023, from £14
Enjoy two concerts for the price of one, featuring the talents of Kathryn Williams & Polly Paulusma.
Jazz at NAC: Shivraj Singh's 'Loophole' feat. Soweto Kinch
27 September 2023, from £15
Experience the musical prowess of young bass player Shivraj Singh, accompanied by the renowned Soweto Kinch.
Wolverhampton Seventies Weekend 2023
29-30 September 2023, from £20.00
Step back in time at the Wolverhampton Seventies Weekend
Don't miss out on these exciting September events at Newhampton Arts Centre. Book your tickets now and experience the best of what the NAC has to offer this month.
You may also be interested in