This week we caught up with Svenja who runs Diddi Dance classes here at NAC.  They have held their classes here at Newhampton Arts Centre for the past 8 years.
Tell us about you and your classes at NAC?
Hi, I'm Svenja and I run diddi dance classes for pre-school girls and boys aged 18 months to 4 years. Our classes are a fun and funky introduction to dance that help very young children improve their physical skills and develop a love of movement.
My class at Newhampton Arts Centre was one of my very first 'original' classes when I started my franchise business almost 8 years ago and is still running every Tuesday morning during term time, now delivered by one of my fabulous diddi dance teachers.
What is your background?
My background has always been in teaching dance as it's what I'm passionate about and I have a Degree in dance and a teaching qualification. Previous to running diddi dance, I taught dance and performing arts to students aged 16 and over in a Sixth Form college for 11 years. I have also worked for Shropshire Inclusive Dance teaching SEND adults and children. But I fell in love with the idea of owning my own diddi dance business when my son was just 3 as he loved to dance with me.
How did the pandemic affect you?
My franchise has grown considerably over the years and now covers all of Wolverhampton, Stafford, North Telford and Market Drayton. During the pandemic I was able to adapt classes and taught online so that our diddi dancers could continue having fun with us in their own homes. Now we are really glad to be back in physical classes and have an extensive timetable of 21 classes in 19 different venues, Mondays through to Saturdays so there's sure to be one that suits everyone.
As well as all of my diddi dance classes, I also work with lots of local nurseries and pre-schools as our sessions compliment and enhance the EYFS framework and are a great way to get children moving and staying physically active. The sessions are also really educational in the most fun way. And then there's diddi dance birthday parties that we offer for 2 to 7 years olds!
What exciting projects have you got coming up?
This year has been a very exciting one in terms of other projects too as I've delivered dance sessions for Shropshire Kids Fest, The Wolves Foundation at The Molineaux and in August this year I am even going to be diddi dancing at Camp Bestival Shropshire at Weston Park.
Where can people find out more?
For more information on diddi dance classes for your pre-school child, the nursery session or birthday parties, or to have diddi dance session at your kids or family friendly event, please get in touch via Svenja's website or Facebook page. Or you can contact her at svenja.jinman@diddidance.com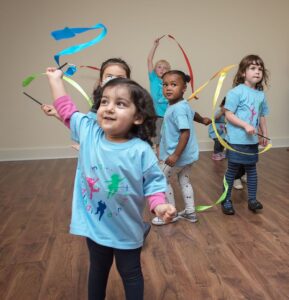 Related event
Tuesdays,
Diddi Dance – Toddler Dance At diddi dance we realise and encourage endless enthusiasm and energy in an...
You may also be interested in