Review – GrimeBoy at Birmingham Rep
It's as much a celebration of the power of music as gritty urban drama
Our CEO, Trevelyan Wright popped a long to see GrimeBoy at the rep last week, just ahead of its community tour, and hitting NAC's stage on Friday 13th May.
Grime Boy tells the story two aspiring grime MCs – GrimeBoy  and his protege Blue. They begin as rivals but soon become firm allies. The unmissable new play from Casey Bailey, the Birmingham Poet Laureate and winner of the Greater Birmingham Future Face of Arts and Culture 2020
We caught up with Trevelyan, and he was more than happy to tell us all about it. There's also some fantastic production shots below too from photographer Graeme Braidwood.
"GrimeBoy is a fantastic mix of grime rave, drama and poetry. It tells the story of the GrimeBoy, desperate to escape his past and make it as an MC. He hooks up with another MC, Blue and they look to win top spot at a key local clash event. With a live onstage DJ much of the action unfolds through spitting beats over original music. We were blown away by how the cast of three are convincing both as actors and rappers. 
It's not always an easy watch – there's no escaping the shadow of knife crime in the story, but the the likeability of the characters mean it's not a defeatist ninety minutes. It's as much a celebration of the power of music as gritty urban drama"
Trevelyan continues
"We're very proud it's coming to Wolverhampton on tour and hope you'll join us for what promises to be an amazing evening that will utilise NAC's renowned sound system to the full"
Directed by The Rep's Associate Director Madeleine Kludje with set design by Ebrahim Nazier, Grime Boy is heading to Wolverhampton on Friday 13 May. Tickets are just £5 which sounds like a steal to us. If you would like to buy some tickets online for the Birmingham Rep On Tour you can find the link here or below.
This performance will also feature special guest J Man who recently headlined at NAC as part of the Beatsabar presents fundraiser event.
Photo Credits:
Graeme Braidwood & Toyin Dawudu
Bailey's lyrics are clever, biting and often beautiful – undoubtedly he is a huge talent Euan Rose
Grime Boy is raw and it is real. The story telling remains true to its genre throughout, with Baileys talent for writing shining through in the lyrical content Amazing Adventures of Me.
Casey Bailey's moving, emotionally honest grime musical grows in power and has its own poetic, street-smart presence The Guardian
Related event
13 May 2022, from £5.00
GRIMEBOY By Casey Bailey – The first full theatre production from award-winning poet and performer, Casey Bailey. Directed...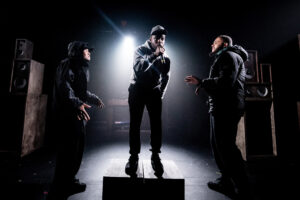 You may also be interested in